One of the most significant global trends in identification and access control is the growing popularity of biometric identification. Biometric identification, which has become commonplace with smartphones, is also playing a growing role in the development of access control. IDcontrol's Digiovi access control system is indeed integrated with the devices of the world's leading biometric identification operator, Idemia, into a seamless whole.
IDcontrol has started a comprehensive technology collaboration with Idemia. The core of the cooperation is the integration of highly secure biometric readers offered by Idemia into the Digiovi access control system. The strength of Idemia's product development can be seen, for example, in its own encryption algorithm, which guarantees the data security of the products.
We met with John Laws, Idemia's regional director for Northern Europe, and discussed the development of secure identification and access control:
Idemia is particularly known for contactless biometric identification, is this technology a result of the COVID-19 pandemic?
John Laws: Actually, contactless biometric identification has been a strong rising trend even before the pandemic. There are many reasons for this, above all the security and ease of use of biometric identification. Smartphones have made, for example, face or fingerprint recognition an integral part of every person's everyday life. Of course, the pandemic accelerated the need for contactless identification in particular.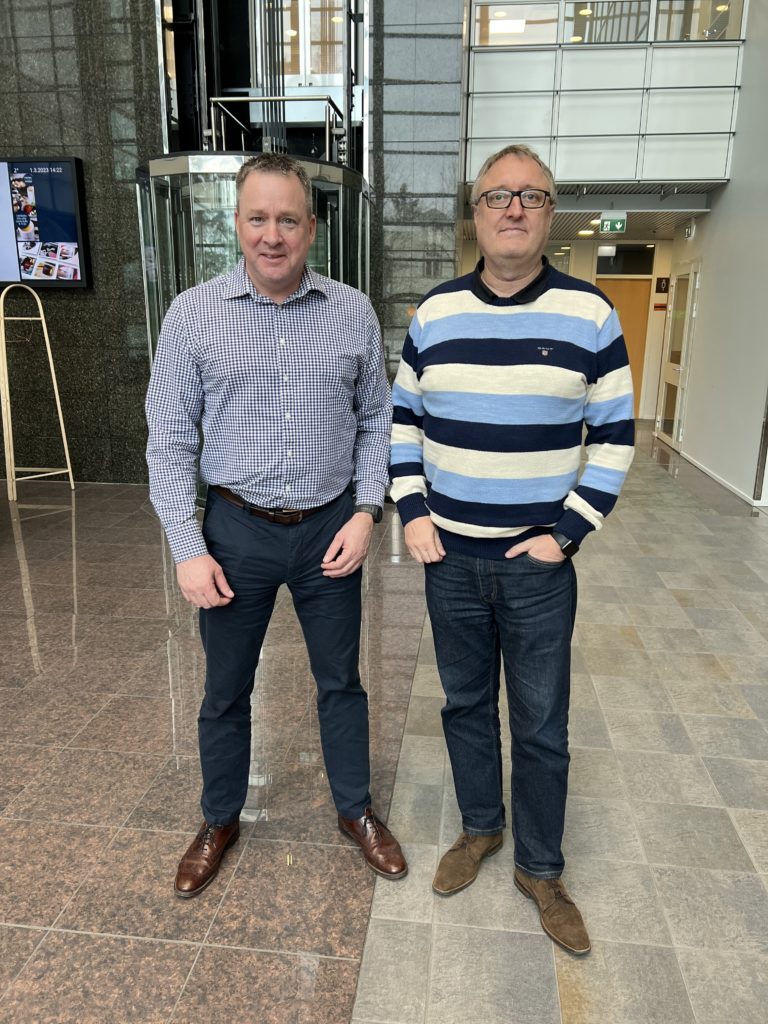 Why switch to contactless biometric identification and access control?
John Laws: An access control system can no longer be up-to-date without the possibility of connecting biometric readers, this is a clear development trend in the market. For example, Idemia Wave readers are very suitable for access control applications due to their ease of use: the door or access gate opens literally with a wave of the hand! Facial recognition is an equally easy-to-use technology in access control.
What about privacy protection and GDPR, is it possible to do biometric identification while respecting them?
John Laws: That's an excellent question. The short answer is: yes. Idemia is at the forefront of development in information security. Our readers do not store, for example, facial or fingerprint images in a recoverable format, and strong encryption protects the data. Our other significant innovation is related to facial recognition. Our reader does not read faces until the person has indicated their intention to use the door or gate to which the reader is connected. So, for example, the faces of passers-by are not read at all. This ensures permission to perform biometric identification. We know that privacy protection is an important social topic in Finland and Scandinavia, for example, and those interested in the topic should come and listen to more information about this topic in our webinar with IDcontrol.
How would you characterize the cooperation with IDcontrol?
John Laws: IDcontrol is our first local partner in Finland. The cooperation that has begun has convinced us of their technical know-how and desire to build a long-term genuine partnership. For example, their investment in training technical staff on our systems has been exemplary, and they are able to support local users in the local language. We present more of our cooperation in our webinars, such as integration with the Digiovi access control system.
Cooperation with Idemia is new in the Nordic countries, but IDcontrol already has experience with Idemia before, IDcontrol CEO Markku Raitanen?
Markku Raitanen: Idemia is familiar to us from our South African and other export projects. Our cooperation makes Idemia products available to our customers everywhere.
And how does IDcontrol see Idemia's biometric identification in the future access control market?
Markku Raitanen: The Digiovi access control system continues its development as the most versatile access control solution on the market, Idemia's excellent biometric identification readers are an important part of the technology options we offer. I thank Idemia for the excellent support at the beginning of our cooperation, which has enabled us to quickly adopt new technology for the benefit of our customers. It is clear that biometric identification is a significantly developing and emerging part of access control and building security. The future of the market looks bright.
Are you interested in biometric identification and the opportunities it brings in access control? Join our webinar series! More information on the webinars will be published on our social media.
Read more about Idemia readers here on IDcontrol's website.